Some services are not accessible on smartphone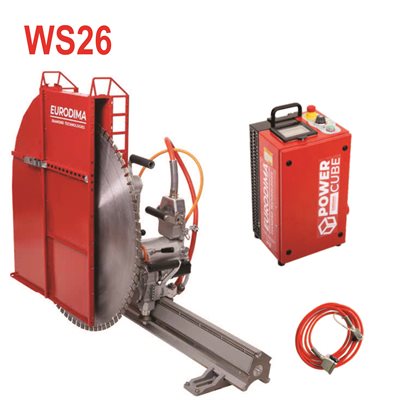 Press and move to zoom.
Mouse over image to zoom.

EURODIMA WALL SAW SET :
Product Code: WS26 set
The new wall saw delights users with maximum performance and low weight. A long tool life and theworldwide longest service interval for wall saws will also make this a very economical choice.Structurally identical feed and swivel motors, equipped with a wear-free electromagneticbrake, also contribute to the cost effectiveness.
Wall saw head: only 64 lbs
Motor with 20 KW ServoPower, convenient 26 kg and water-cooling - no additional after cooling necessary
Tool-free motor interlock with hand lever
Power transmission from the motor with a dampened claw coupling wear free
Autonomous cooling water drain from motor and saw – avoiding frost damage
Wear-free, electromagnetic brake
Tool-free quick release fastener for blade guard
Long life service interval after 250 operating hours
Feed and swivel motor are structurally identical - easy to be exchanged
Feed and swivel motor are protected with a friction clutch from overload
Simultaneous control of feed and swiveling possible
Improved roller system due to axial and radial bearings
Flush flange can be assembled and disassembled from the motor side – radial blade flange holder
Free saw blade lift of Ø (32.5"); able to start with 32" blade
Blade diameter up to Ø (62"), therefore a max. cutting depth of (28.5")
Standard equipped with radio remote control
Air-cooled control box
Hardened roller guide
Operation with 16 A also possible
Automatic control of the feed and lowering speed
This kit contains:
*Additional fees will apply for this product.
| | |
| --- | --- |
| SPECIFICATIONS | WS26 |
| Output power at the saw blade | 20 kW |
| Max. speed at the saw blade | 1,140 rpm |
| Max. blade diameter | 1,600 mm |
| Max. cutting depth | 725 mm |
| Feed and swivel force | 300 kg |
| Lowering – longitudinal feed | 0–3 m/min |
| Max. speed of the swivel arm | 0–2 rpm |
| Weight – wall saw motor | 12.0 kg |
| Weight – saw head without motor | 29 kg |
| Saw blade bore | 60 mm - other on request |
| Saw blade flange for flush cut | WS20E TK 110 - 6 x M8 TK 130 - 6 x M8 |
| | WS20H TK 110 - 6 x M10 TK 130 - 6 x M8 |
| Machine dept | 424.5 mm |
| Machine width for horizontal swivel arm | 430 mm |
| Machine width | 380 mm |